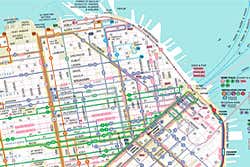 San Francisco Public Transport Map
Each bus route is numbered and route maps can be found at bus stops.
The trolley buses stop at the same stops as the buses but run on electrical energy which they get from cables that they are hooked onto.
Lines
San Francisco is a fairly large city with hundreds of buses circulating around its downtown area. Although the first thing that you should do when you get to San Francisco is to get a transport map, at times it can be easier to look at the maps provided in the bus stops.
Fares
Adults: $2 (including transfers for 90 minutes after boarding).
Children between 5 and 17 and Seniors over 65: 75 cents.
Children under 4 years: free.
If you are planning to spend a few days in San Francisco it can be a good idea to buy a Muni Pass, which is also valid on streetcars, cable cars and Muni metro lines.
Operating Times and Frequency
The operating times for buses and trolley buses depend on the line but it is approximately between 5 am and 1 am.
The frequency depends on the line and the time, but the lines that travel through the city centre all run every ten minutes or less.