The subway system in San Francisco is convenient and easy to use, although it is not as interesting for tourists as the cable cars and streetcars. It is particularly useful to get to and from the airport.
The subway system is operated by two different companies: MUNI and BART. The two companies share four stations in the city center: Civic Center, Powell, Montgomery, and Embarcadero.
In order to switch between the two networks, it's necessary to buy a ticket for each one.
BART
BART (Bay Area Rapid Transport) is similar to a short-distance train system, and the BART lines link San Francisco to other cities and further away places. The network is used by over 400,000 people per day.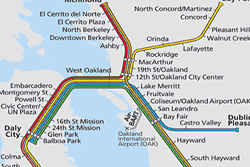 BART Map
While BART travels to the areas further from the city, the MUNI Metro (Municipal Transport Agency) tours the heart of the city. We can describe it as a kind of light rail link, with underground as well as above-ground stations.
Lines
BART has 5 lines:
Yellow: Pittsburg/Bay Point - San Francisco Airport
Red: Richmond – Daly City/Millbrae.
Green: Fremont – Daly City.
Orange: Richmond – Fremont.
Blue: Dublin/Pleasanton – Daly City/Millbrae.
Fares
The BART fares vary depending on the distance traveled. Journeys can cost between US$ 2.50 and US$ 12.90. 
To calculate the fare, you just need to look at the map which shows the different BART lines and stations. There you can see how much a journey between two particular stations costs.
Times and Frequency
During the week, the train runs from 4 am until midnight. On Saturdays, it starts running at 6 am and on Sundays at 8 am. Outside of these times, there are night buses that cover the same routes.
The trains run every 15 minutes, or up to every 20 minutes at quieter times.
MUNI
While BART reaches places further away, the MUNI Metro, run by the San Francisco Municipal Transportation Agency goes around the city center. It's basically a light railway system with both underground and overground stations.
Lines
The MUNI network has 6 regular lines and one special line (S) which operates during rush hour. Although a number of lines have the same start and finish point, they all travel along different routes: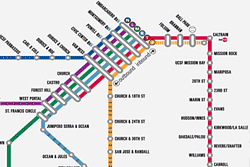 MUNI Metro Map
J line (orange): Embarcadero - Balboa Park.
K line (light blue): Embarcadero - Balboa Park.
L line (purple): Embarcadero - San Francisco Zoo.
M line (green): Embarcadero - Balboa Park.
N line (dark blue): Caltrain Depot - Ocean Beach.
T line (red): West Portal - Bayshore and Sunnydale.
S line (yellow): Embarcadero - Castle Street.
Fares
Adults:

US$

2.50 (including transfers for 90 minutes after boarding)
Children between 5 and 17 and Seniors over 65:

US$

1.25
Children under 4 years: free.
If you're going to stay in the city for a few days, it's worth having a look at the Muni Passport or the CityPASS.
Times and Frequency
The Muni metro trains run every 7-10 minutes and, approximately and depending on the station, run between 5 am and 1 am. Outside of these times, there are night buses that travel along the L and N routes.