California Academy of Sciences
The California Academy of Sciences is a museum with more than 150 years of history, created with the intention to explore, explain and protect the natural world. 
The California Academy of Sciences is a very complete museum with a planetarium, a natural history museum and an aquarium.
The Museum by Parts
Steinhart Aquarium: it has more than 38,000 living animals from all over the world, including fish, reptiles, amphibians, insects and other invertebrates; one of visitors' favorites is the albino crocodile.
Morrison Planetarium: it is the largest digital planetarium in the world. In it you will be able to travel through time and space to learn about the dramatic experience of a stars' life and death.
Kimball Museum of Natural History: it has important exhibitions about the evolution of life on Earth and its conservation. Enormous skeletons are shown like that of a tyrannosaurus rex or a large blue whale.
Rainforest: in here more than 1,600 animals live together. In this environment, which was perfectly created, birds, butterflies, amphibians, bats and exotic reptiles live together.
The academy suffered some mishaps in the past when the earthquake of 1906 practically destroyed the entire museum and it had to be rebuilt. In 1916 it was moved to the building in which it is now located, in the heart of the Golden Gate Park, just across from the de Young Museum.
Good for Children
Children and adults will be enchanted by this natural history museum. The exhibitions are very interesting, above all the rain forest area that is perfectly recreated.
You could say that the aquarium at the Academy of Sciences is significantly better than the Aquarium of the Bay, although the second has a longer history.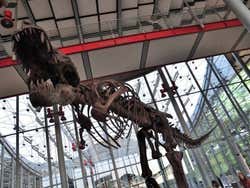 Schedule
Monday to Saturday: 9:30 am - 5 pm.
Sundays: 11 am - 5 pm.
25th December and Thanksgiving: closed.
Price
Adult: $35.95.
Children between 4 and 11 years old: $25.95.
Children between 12 and 17 years old and students: $30.95.
Seniors: $30.95.
Children under 4 years old: free.
City Pass: free.
Go San Francisco Card: free.