USS Pampanito in History
USS Pampanito is a submarine from the Second World War that survived a countless number of battles in the Pacific; it sank six enemy ships and managed to rescue 73 men and take them to the United States.
While it was in service, the Pampanito had a staff of 80 men who shared the tiny space over long voyages.
Visiting the Pampanito
Visiting its decks is not too interesting but, once you go inside, you will discover a completely different world and feel part of history; the history of those who spent so much time working and living here.
On entering the Pampanito you can visit the rooms where the crew lived; the kitchen, the dining room, a small office and the dormitories are still the same as they were at the time.
An Entertaining Visit
Unless you have visited New York's Intrepid Sea, Air & Space Museum, if you have ever wanted to go into a submarine, this is your opportunity. Exploring the inside of a submarine is not something that you can do in many places.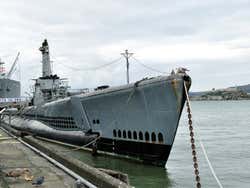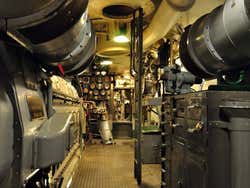 Schedule
June to August: 9:30 am - 5:30 pm.
September to May: 9:30 am - 5 pm.
Price
Adults: US$ 20
Children aged 5 to 13 years: US$ 10
Students and people over 62 years old: US$ 12
Children under 4 years old: free.