Fisherman's Wharf, the former site of San Francisco's port, is a tourist hotspot which still maintains some of its authenticity.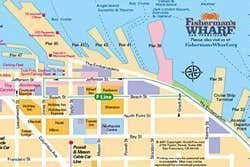 Fisherman's Wharf Map
Revisiting the Past
In 1853 the first port of San Francisco was built here; quickly it became an important maritime center for the distribution of fresh fish until in 1950, with the arrival of modern technology, the bay area deteriorated considerably. Many of the fishing industries in the area declared bankruptcy or were forced to relocate.
Things To Do
Fisherman's Wharf is a great place to enjoy many different activities; you can visit the old Aquarium of the Bay, explore the ins and outs of the Pampanito Submarine Museum, go into the history of World War II by touring the decks and cabins of the SS Jeremiah O`Brien Ship, revisit the past with the games at the Musée Mécanique or take a ferry or speed boat across the bay.
Pier 39
Pier 39 is the best-known part of Fisherman's Wharf and here you can find one of its biggest attractions; dozens of sea lions that frolic and sunbathe while emitting their special grunts that can be heard from far away.
In Pier 39 you'll also find a large number of shops and restaurants that are spread over two levels.
If you would like to eat in the area and you like eating fish, the best idea is to go to one of the street stands that prepare crab cocktails and fresh fish to suit all tastes.
A Beautiful Area To Stroll Around
Visiting Fisherman's Wharf is not just recommended, it's mandatory! It's one of the liveliest and most interesting areas in San Francisco. You should take your time when you visit, strolling around and enjoying its many beautiful spots.