Japantown in San Francisco is the largest and oldest Japanese district in the United States. Its main street is Post Street and it covers 6 blocks.
A Glance at the Past
In early 1860 the first Japanese citizens came to San Francisco; they constructed shrines and opened Japanese shops and restaurants.
When a large earthquake destroyed San Francisco in 1906, the Japanese government donated 246,000 dollars to the city of San Francisco for its reconstruction.
Over the years there were some anti-Japanese movements with all kinds of aggression with this coming to a peak in the year 1942 (in the aftermath of the attack on Pearl Harbor), when President Roosevelt signed an executive order to expel or incarcerate people of Japanese descent, including foreigners and nationals.
Whilst thave been many moments in San Francisco's history in which the inhabitants of Japantown have been treated extremely harshly, nowadays they live in perfect harmony with the rest of the city's residents.
Touring Japantown
The Japanese district is a peaceful area with a special atmosphere. Touring its streets and getting to know the culture of its people is priceless.
Some of the most interesting places in the area are the following:
Peace Plaza.
The Japan Center; a building full of restaurants and Japanese shops which brings together the Japanese culture in the centre of San Francisco.
Peace Pagoda; a beautiful 98 feet (30 metre) tall pagoda with five levels, a gift from the city of Osaka.
The door of a mountain temple which is the entrance to a picturesque street full of Japanese-style houses.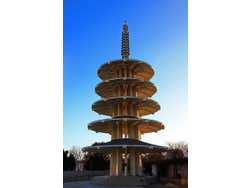 Transport
Bus: lines 2, 3, 4 and 38. (Stops at Laguna, Buchanan or Webster).