Located in the city centre, Union Square is the most well-known commercial area in San Francisco.
The square has the name "union" because it was the chosen location for the demonstrations of support for the Union Army during the Civil War.
Nowadays Union Square keeps its role as a ceremonial centre of San Francisco, acting as a venue for many concerts and public events, as well as protests and art exhibitions.
If you are interested in going shopping, near Union Square you can find the largest stores in the city, including Macy's, Bloomingdale's and Nordstrom and the most prestigious shops such as Louis Vuitton, Gucci, Dior, Versace, Chanel, Dolce & Gabbana, Prada and Giorgio Armani, among others.
Apart from shopping, Union Square is one of the most important and interesting areas of San Francisco. It is worth getting to know your surroundings by exploring nearby streets like Post, Geary, Powell and Stockton. You can enjoy various art galleries, see a show at one of the theatres, eat at one of the finest restaurants in the city or simply watch life going on around you in the heart of San Francisco. The square is also a main meeting point for locals and visitors alike, a good way of getting your bearings is to take a free walking tour of the city, which leaves from this point.
If you are lucky enough to visit San Francisco at Christmas time, the square has some added attractions, such as the enormous Christmas tree and the skating rink to delight both residents and visitors alike.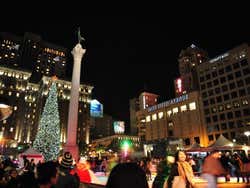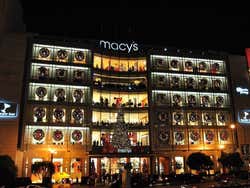 Transport
Cable Car: lines Powell-Hyde and Powell-Mason.